The build quality is up to Wacom standards and feels very solid and well made. This tablet uses the Wacom EMR (Electro Magnetic Resonance) technology. It's the same tech that is used on mobile devices such as some of the Samsung tablets and phones. Because of this the Wacom One Pen Display is compatible with some other pens, such as the ones with the Samsung note. There is a list on the Wacom site.
The nice thing about EMR, is that the pen carries no charge, so there is no charging required as there are no batteries in the pen. Before you ask, no, the Wacom pro pens don't work on this display. It comes with its own Wacom One Pen, which is similar in size, but is halved (from the Wacom Pro pens) to 4096 levels of pressure. Trust me 4096 is more than enough for most people.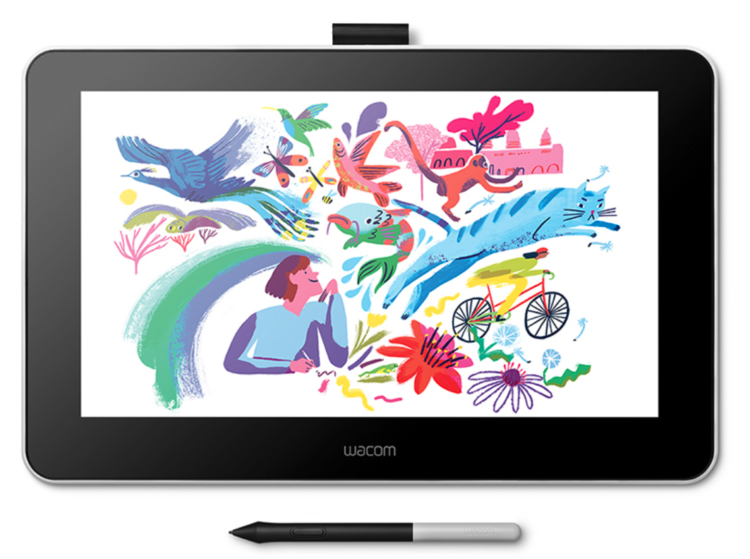 This is a product that sits at the entry level of Wacom pen displays and completes a 3-tier line up. There are the Cintiq Pros at the high end for working professionals. There are the Cintiq line for students and serious hobbyists and now the Wacom One is targeted at hobbyists and people moving up from painting on a phone or tablet screen. Of course there is still the Intous and Intuos pro line of tablets for photographers and retouchers. There main difference is that a tablet is good for retouching photos, where as a pen display is best for digital painting and sketching on screen.
The Wacom one works with Mac and Windows and is also compatible with some Android devices. Check Wacom's website for more info.
Main specs are:
13.3″ display at 1920×1080 (Full HD) 72%NTSC color. It has a textured anti reflective surface.
The pen is 4096 pressure sensitivity and 60 degree tilt angle. It has a single toggle switch.
The tablet is connects to your device through a single squid-type cable that has 4 connectors.
USB type A connector and a full size HDMI connector to the device,
USB A power cable with wall plug a
USB-C that goes into the display. If you want to work mobile, you can if you have a good USB charger. I tested it was able to run the display from my Belkin charger.
There is no on-screen touch functionality, you interact with the pen.
Using the Wacom One Pen Display
I tested the unit in the video at the top of the page. Here are my overall impressions. I used it to retouch and photograph and make a quick sketch.
The pen experience was what I would expect from a Wacom. It has a nice feel with enough resistance on screen to feel like natural media. Connected to my MacBook Pro, and running Adobe Photoshop, I didn't experience and lag or latency. I didn't experience any issues with glare. On the weaker side, the brightness is adequate for indoor use, but not bright enough for outdoor use. The lack of touch strips and express keys does slow you down a little bit, although you can set ups an onscreen menu and the express Key remote is available as a separate purchase.
While its not quite as nice to use as a Cintiq, it still feels better than the other options out there including the iPad Pro with Apple Pencil (I feel like I'm skating on ice with the iPad and pencil as the surface is very slippery and lacks friction). You can use the One either drawing on screen as a second monitor, or as a tablet mirrored to your computer display.
If you are looking to use a "real" computer to run desktop class applications such as Photoshop and Painter and desire the painting on screen experience, but don't want to spend more than $400 this would be a great entry to a digital painting experience.
You can get a Wacom One Pen Display here. Price $399 USD
I hope you found this review useful!
Colin
The post Wacom One Pen Display hands on Review appeared first on PhotoshopCAFE.