Wacom has just released a 16 inch Cintiq for only $650. Check out my in-depth review of the new Wacom 16 Pen display. I unbox and set it up, show you the additional stand. Find out the specs and see what it's like in use for both illustration and retouching. I also test the lag, parallax and more.
There is nothing like drawing and painting directly on screen.
Colin Smith Reviews the brand new Wacom Cintiq 16 Pen display tablet. See the features and how it works. Unboxing, setup and user experience reviews of the interactive pen display from Wacom.
Wacom Cintiq 16 Specs
| | |
| --- | --- |
| Screen size: | 15.6 inch |
| Screen resolution: | 1920 x 1080 (Full HD) |
| Color gamut: | 72% NTSC (CIE1931) typical |
| Pen technology: | Wacom Pro Pen 2 with Wacom EMR |
| Pen pressure levels: | 8,192 |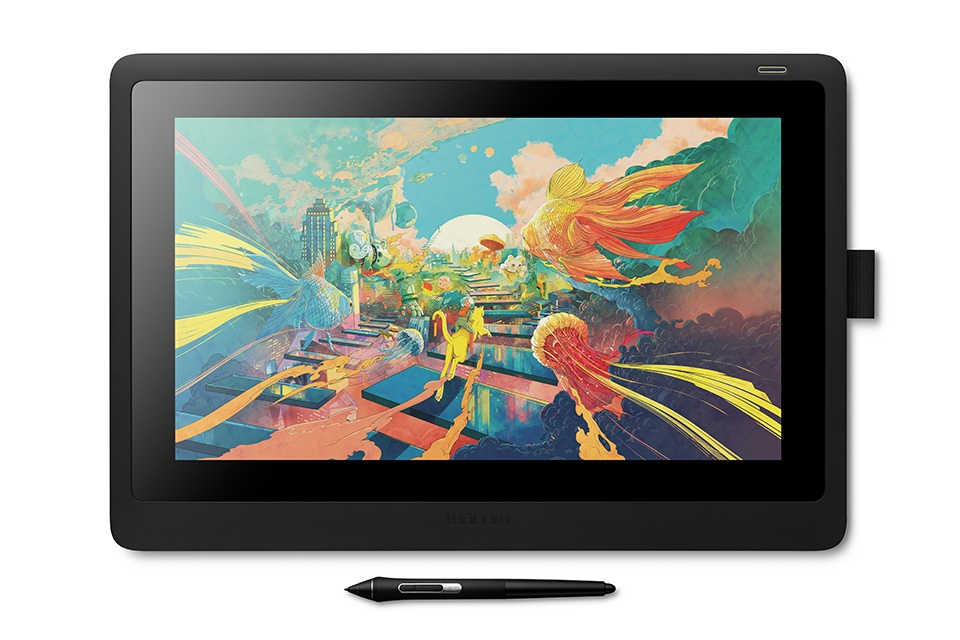 Having used Wacom tablets since the Artpad 2, I have become used to the fluid drawing experience that the EMR (Electro Magnetic Resonance) pens provide. The pens don't have batteries and are well balanced with a comfortable feel and never need to be charged. The 8192 levels of pressure sensitivity and textured surface of the tablet, resembles drawing with a pencil or pen on paper. When in Photoshop, there are so many tools that take advantage of pressure sensitivity, that I can't image drawing or retouching without one. I always travel with a Wacom Intuos tablet in my bag.
The Cintiq line, cranks it up a notch. It's the same tablet experience, except you are drawing directly on screen. I have used a Cintiq for a number of years owning the 21″ and then the 22″. These tablets always retailed for over $2,000. When I saw a Cintiq for only $650 USD, I was very interested. Check out my video review and share this experience with me as I put it through its paces. Decide if it's worthy of bearing the Wacom name.
Thanks for checking out my review and drop a comment and let me know your thoughts.
Buy it here. Wacom Cintiq 16: https://amzn.to/2Wh0iFf
Colin
The post Wacom Cintiq 16 review. An inexpensive Pen display from Wacom appeared first on PhotoshopCAFE.