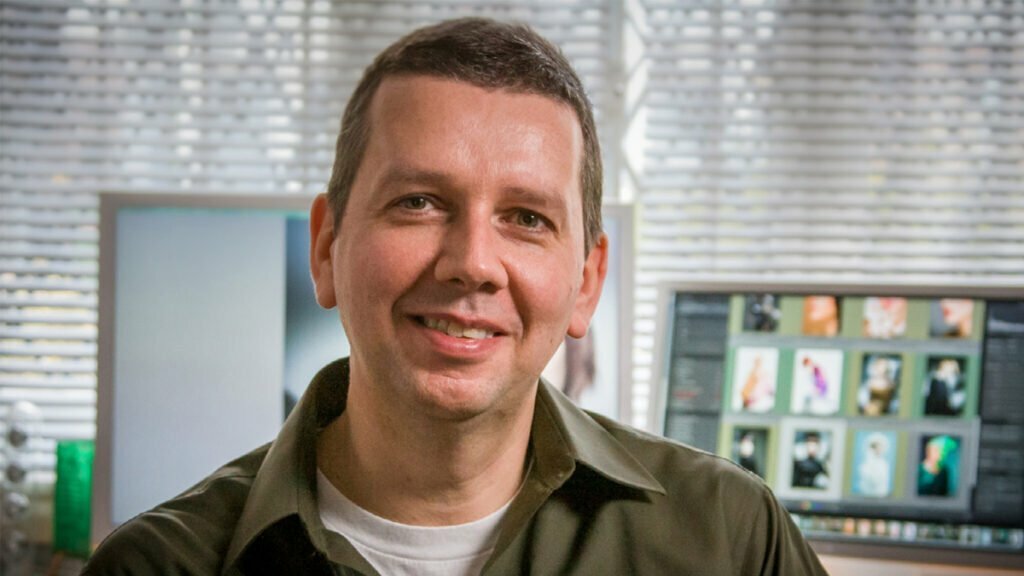 My heart sank when I heard the news that Martin Evening, one of the legends of our industry, one of its most talented and prolific authors, a gifted instructor, an award-winning photographer, and one of our reader's favorite columnists in Photoshop User magazine, had passed away after a long, courageous battle with cancer. He was only 63, passing far too soon, but the impact his life and career had on the worldwide Photoshop and Lightroom community will be felt for many years.
You can see Martin's fingerprints on Lightroom every time you export a file or go to print in Lightroom Classic's Print module and choose that all-important last step of applying Output Sharpening. That sharpening came from a technology developed by a software company co-founded by Martin called Pixel Genius. He was their product manager for their PhotoKit Color plug-in, lead creator, and a key part of this award-winning company, founded by a close-knit group of friends and industry icons. But it wasn't just this development side of Martin that benefited the Lightroom community; it was also through his many bestselling books, his lectures around the world, and his articles in Photoshop User, where he helped users to learn and embrace new ways of editing their images. I've always admired Martin's deep knowledge of Lightroom (far beyond my own) and his remarkable ability to communicate advanced topics in a way that made them understandable and accessible.
When asked about his success and many accomplishments as an author, he said, "When I reflect back as to why my books sold so well, I don't think it was because I was particularly smart. Sure, I was clever enough to write informatively, but this never came as easy to me as it did for others. I think the fact I nearly always found it a struggle to make sense of complicated concepts, and seek ways to explain them more clearly, was something that resonated with my readers and made my books successful."
His engaging style gained Martin legions of fans around the world, and we were tickled pink when he agreed to write a monthly column in our magazine. Of course, he was an instant hit with our readers, who loved his insights, teaching style, and his ability to engage and inspire in every issue.
I remember the first time I met Martin, 20-something years ago, at an Adobe event in Stockholm, Sweden, where we were both speakers. I had just arrived at the conference after a long flight. I was a bit jet-lagged and had to go straight to the stage and set up the AV (back then, doing presentations from a laptop and having the AV actually work was pretty sketchy). Sure enough, for whatever reason, the AV team couldn't get my laptop to see the projector, and things looked bleak (and I was the day's first presenter).
While the AV team was scrambling to get my laptop to see the projector, I was introduced to the folks from Adobe and some of the other instructors, and that's where I met Martin for the first time. He could tell I was freaking out a bit and asked if everything was okay. I told him about my laptop/projector issue, and he said, "Well, you're welcome to use my laptop. They just checked it, and it connected to the projector, no problem."
I thought, "Wow, I just met this guy 60 seconds ago, and he's offering me his equipment to use." I thanked him, but I said I wasn't sure that would work because I use a mouse with my laptop (stop snickering, this was a long time ago), and he said he thought he might have one in his bag somewhere and he'd go dig it up and connect it for me (and that's precisely what he did). I was really struck by how gracious and kind he was, especially to someone he had just met. Well, sure enough, they couldn't get my laptop working, and I went on stage using Martin's laptop (and mouse), and it worked out great. But then something unexpected happened unrelated to my laptop issue.
My session was called "Photoshop Down & Dirty Tricks," and I was teaching how to do a whole bunch of different Photoshop special effects based on current trends in print, TV, and Web advertising. Stuff like, "See this magazine ad for Nike? Well, here's how they did that cool-looking glow and the reflection under the sneaker." The same type of stuff we do in Photoshop User magazine today in our "Down & Dirty Tricks" column. Well, I did my session, and it was a huge hit with the crowd. Lots of oohs and aahs and spontaneous applause throughout, and it just went over like gang-busters. They introduced the next speaker immediately after I wrapped up: a British photographer and Photoshop trainer. We shook hands as we crossed on the stage. Seemed like a nice guy. Turns out, he wasn't.
He got to the podium and addressed the audience, "I just sat through that session with Mr. Kelby, and before we get started, I need you to know that everything he showed you, everything you just learned, was absolute crap. It's useless drivel and all that special effects stuff that 'wows' the client isn't the stuff that will make you money. I'm going to show you something that actually will." I'm paraphrasing what he said (it was 20+ years ago), but it was way more than just those few sentences and way more brutal and condescending. He literally went on and on for five minutes or so about how stupid special effects are, how dumb we all are for liking them, and how senseless it was for me even to be teaching them.
My only saving grace was that the audience wasn't at all receptive to his attack. I think he was expecting cheers, but it was more of a collective stunned silence. Everyone was pretty shocked (including the folks who hired me at Adobe). After his onslaught, he went on to spend the rest of his presentation showing slides on how to properly light a product shot for a catalog and how to make the background pure white while keeping the shadows intact under your product shot, using some Photoshop techniques. He kept returning to the point: "This is the stuff that actually makes you money!" You can't make this stuff up, folks.
Anyway, so what does that guy's rant about me have to do with Martin? Well, about a year later, I got an email from Martin letting me know he was asked to help put together a large Photoshop and photography event in the U.K., and he was in charge of hiring the instructors. The organizers of the event wanted to use all U.K.-based instructors, and they had sent Martin a list of possible candidates. Martin was asking if I remembered the guy's name who attacked me in Stockholm. He wanted to make absolutely sure that he didn't hire that guy because of what he had done to me back at that event. The fact that Martin cared enough to reach out about it a year later and that he even remembered it in the first place just cemented to me what an awesome person he truly was.
The next time I saw Martin in person was right before he went on stage to accept his award at his induction ceremony for the Photoshop Hall of Fame during the opening keynote for the Photoshop World Conference back in 2008. We were lucky enough to have him speak at the conference (he rocked it), and we've been blessed to have him sharing his knowledge and his gift for teaching in Photoshop User magazine since November of 2016.
There's a lot more to Martin, his life, and his career, and I invite you to take a few moments and watch this presentation from him, recorded back in May 2021, for the Art of Photography Conference. It's titled, The Hits and Misses of a Creative Career. It's a wonderful retrospective: You'll see some beautiful photos, hear some fascinating stories, see how his work transitioned over his lifetime, and get to know a little more about the man behind the lens, the books, and the amazing images. You can find it by clicking here.
I'd like to leave you with one final quote from Martin: "Above all else, the most important aspect of my life was my devoted marriage to my wife Camilla and being around to see our daughter, Angelica, grow up to become a young woman. I have no regrets about cancer. I have lived a fulfilled life professionally as well as a full, active involvement with personal family life, which meant so much to me and the most important thing in my life."
Martin's legacy of sharing and giving so much of himself, personally and professionally, is one to be proud of. A life lived well. He will be missed.
—Scott
The post The Lightroom Community Has Lost A Legend. Martin Evening (1959-2022) appeared first on Lightroom Killer Tips.