For this comparison, I'm using the Google Pixel 4XL and the Apple iPhone 11 Pro. The iPhone 11 isn't in the same class, its a rename of the iPhone R and the Pro is what used to be called iPhone. Its a marketing move by Apple, I suspect to reduce sticker shock on the inflated prices of the iPhone. There are no adjustments made, these are straight out of the camera. We will look at some of the important things that make a good photograph such as sharpness, definition, dynamic range, low light, noice etc. Unless there is an obvious difference I'm going to let you decide for yourself which of the 2 looks better for each shot. I will bring attention to the things to look for as well as any obvious flaws.
Well lit Night shot
The first shot, is a well lit night shot. Both phones are in portrait mode and the default settings. Pay attention to the running water and the bokeh on the lights behind the shot. The pixel is using a higher shutter speed, as you can see by the movement of the water.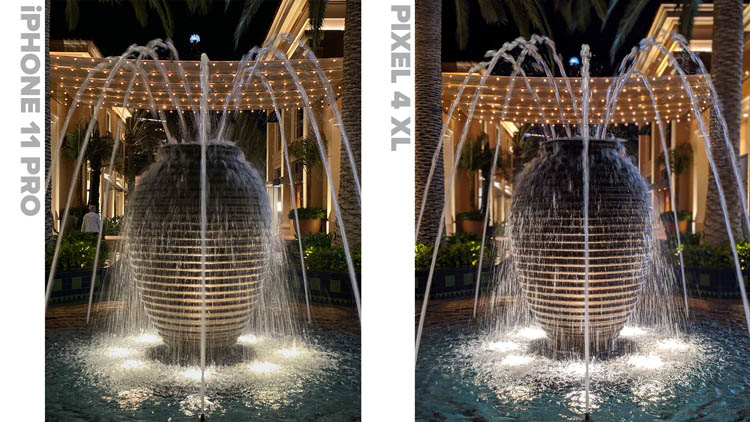 In this second shot, I'm still in portrait mode, and testing the bokeh (out of focus / shallow depth of field). Look for how smoothly, naturally and gradually each camera (phone) puts the background out of focus, as well as how accurate the color reproduction is.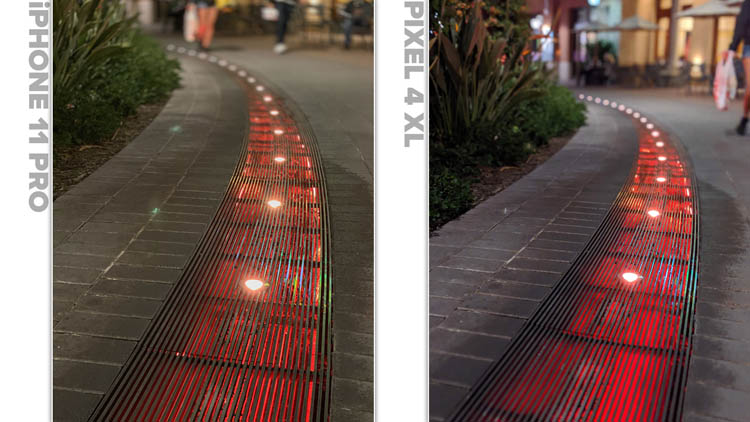 Up close, have a look at the bokeh. The actual use of bokeh refers to how well the lights turn into those nice round balls when out of focus. Because this isn't really created in lens, its generated by the software on each. Although they are both good, personally I think the pixel slightly edges out on this one.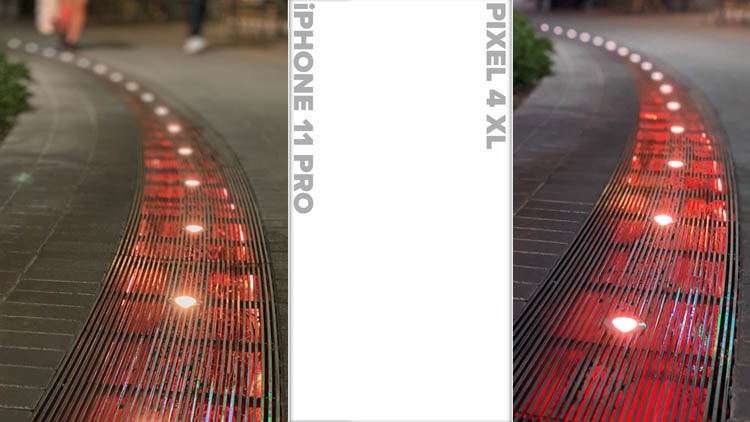 Close-up work on portrait mode – depth of field.
One of the biggest features to me, is how well the camera does on closeup work and throwing the background out of focus. This is what produces that expensive, high end look that you could once only achieve with a larger aperture. Here a captured some tuna sushi. The photos are delicious, but the tuna was just as buttery as the bokeh. Take a look at the color and contrast on the pixel as well as the glass and background.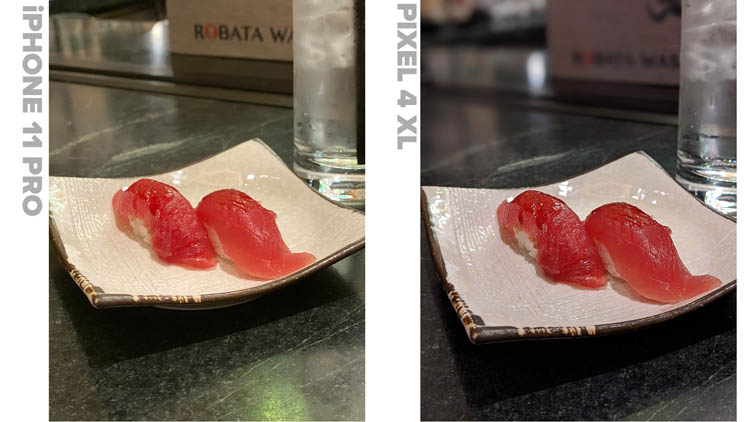 This time I tried to focus on the front of a rainbow roll by tapping on the screens.
Up close the iPhone focused more towards the middle of the roll, so I moved it down on this 1:1 so you can see the close up detail on both on the sharpest portion of the photo.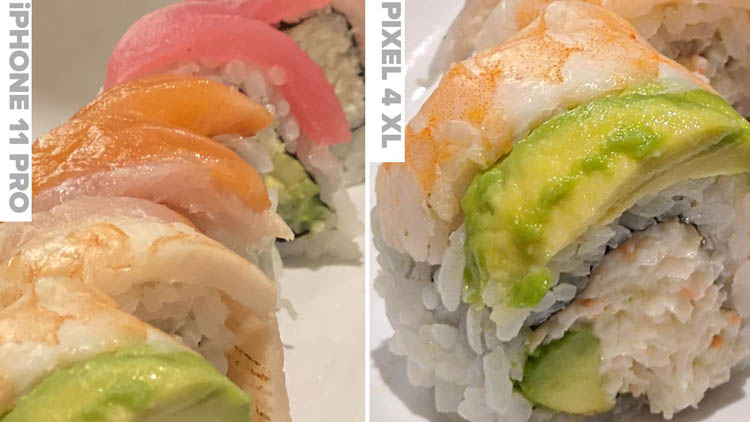 This time I am testing the shallow depth of field.
On the Pixel 4, I first focused on the front of the roll and then the back of the roll to test the shallow focus. I couldn't expect anything better on a DSLR.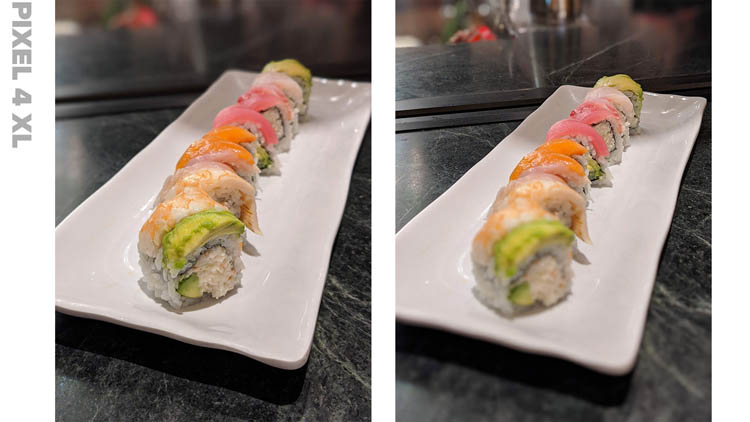 On the iPhone, I tried to do the same thing and as you can see, it couldn't really nail the close up work so well.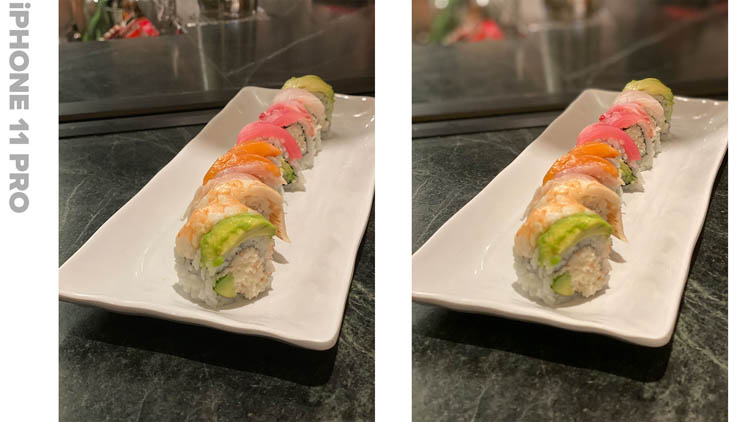 Another thing I found was the iPhone couldn't detect edges and mask the background blur as well as the pixel (I explain this better in the video portion at the top). See how the straw and top of the glass is blurred on the iPhone. I have also noticed a weaker masking on the iPhone 10s as well.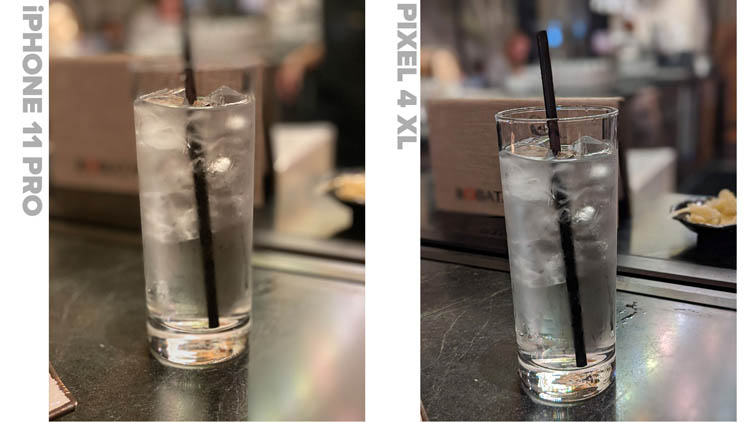 Where the iPhone seems to fail is with areas of stark contrast. The A.I. isn't recognizing outlines so accurately. Here it mistakes the handle of the knife as a background element.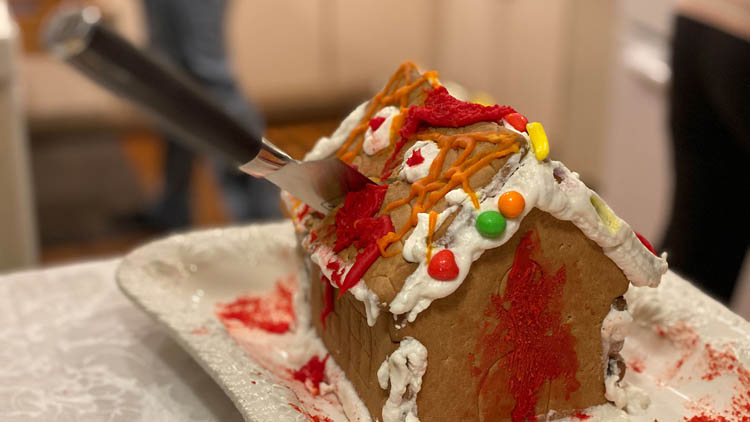 When it comes to portrait mode, I think the Pixel is performing better than iPhone 11 Pro. Of course the iPhone has different lighting modes for portrait which are unique and look good on images with a clean mask. This i an area that Apple need to improve in order to get convincing portrait work, or it just looks like a bad Photoshop job.
Bright details
Here I captured a shot of an illuminated store during night time. I think both performed really well capturing details in the sign and the lights inside the store without blowing out any highlight details.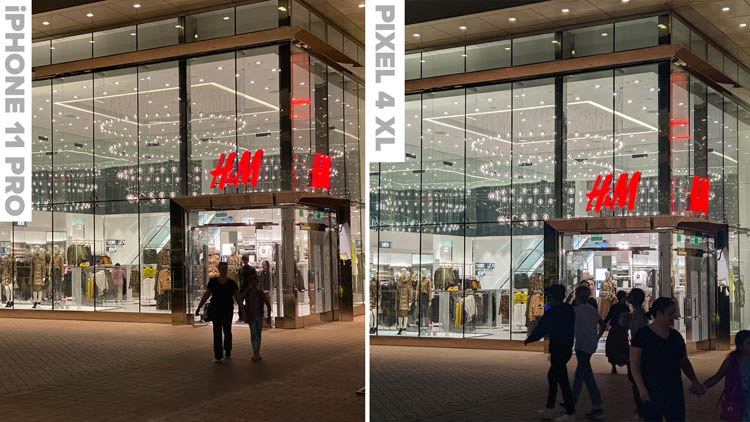 Close up you can see the TV just under the top of the doorway has details on both shots. At 100% the sign seems a little cleaner on the iPhone, the pixel is a little sharper on the details inside the store.
Night Shot
The night shot first appeared on the Google Pixel 3 and Pixel 3a series. How it works is the camera takes a series of photos and then uses AI to merge the shots together to reduce noise and bring out the maximum detail. You can shoot in very dark conditions and get a nice bright image. Apple has added Night Mode and the Pixel has the Nightshot 2.
Here is a tree that hasn't been lit yet, so this was shot in the dark.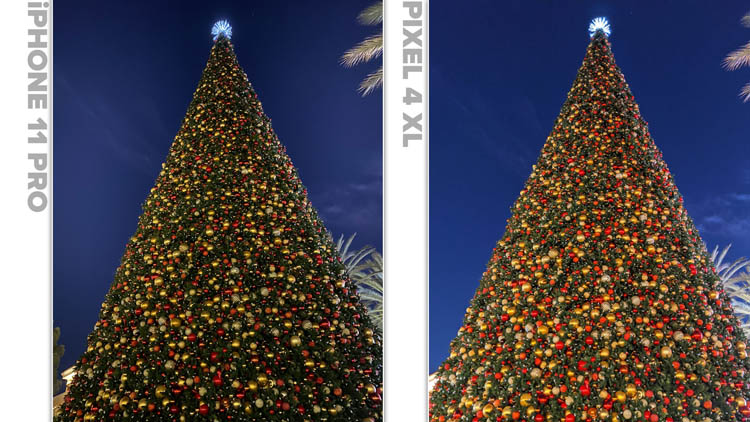 both did a nice job, although the pixel came out brighter with more vivid colors. have a look up close t 100%.
Digital zoom? Don't do it?
Any photographer worth their salt warns against digital zoom. Because it scales the image up and crops. (Interpolation). Typically, this is done better in Photoshop. Fast forward to 2019 and computational photography and all that changes. Remember when they said don't use auto focus on video? New day, new rules. But that's only if the tech holds up. One thing the pixel has over iPhone is a history of CP. The pixel takes multiple images and then builds a new photo from the data using AI. With the onboard AI on the Pixel, it now does this better and faster than before. Let's have a look, and you will realize whey I didn't talk too much about the iPhone's abilities on this one.
Lets start with a photo of a street in regular mode.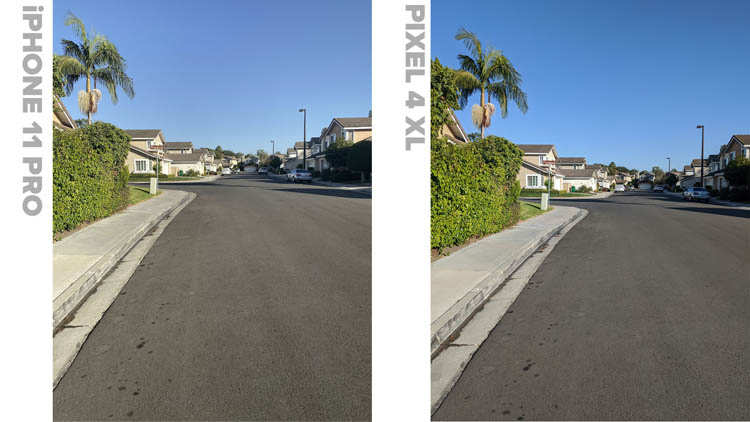 Let's switch to the zoom lens on both. On iPhone tap on the lens control. Pixel double tap on screen. Looks pretty good still.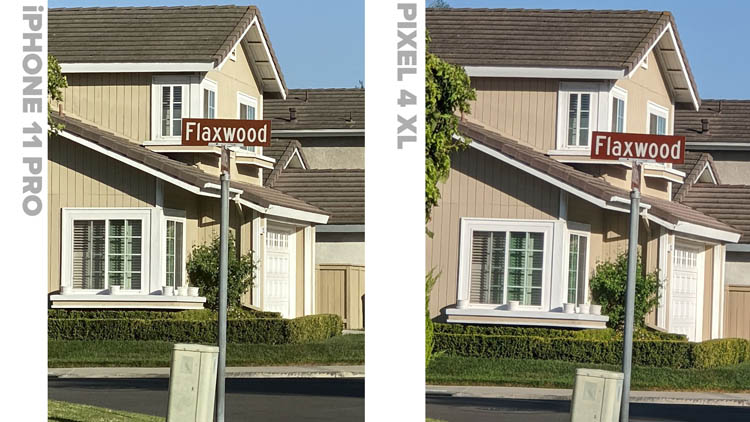 Now we go into digital zoom. I zoomed all the way in on both cameras for this.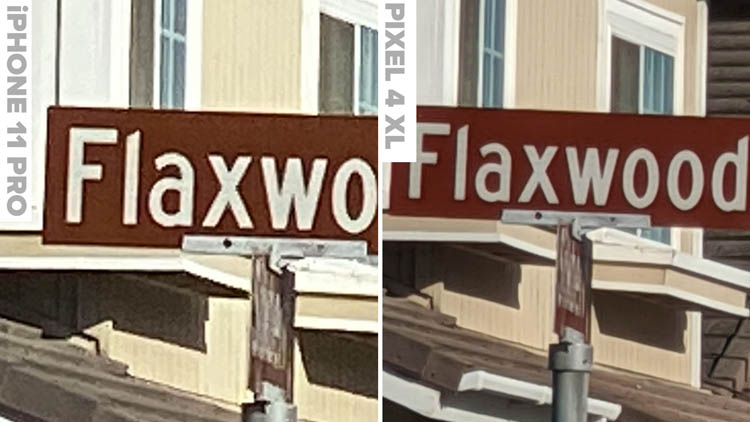 At 1:2 view: As you can see on the iPhone there are a lot of artifacts and crunchy pixels. I would say that digital zoom on the iPhone 11 pro isn't an option right now. Apple promises Deep Fusion which works like the pixel and merges multiple shoots to create a higher quality shot. They didn't ship it with iPhone 11 yet, so time will tell if the iPhone digital zoom is better once the update comes out.
52 mm focal length
Larger ƒ/2.0 aperture
6-element lens
Optical image stabilization
2x optical zoom
12MP sensor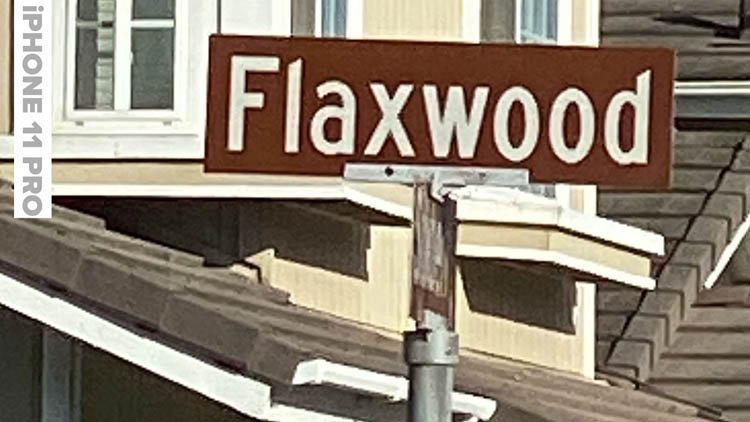 Looking at the Pixel 4 the digital zoom is clearly better. When I say better, its almost as good as an optical zoom.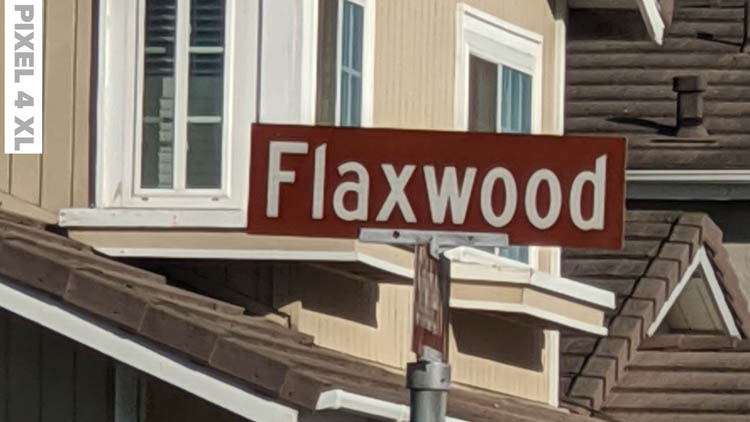 Lets look at another example.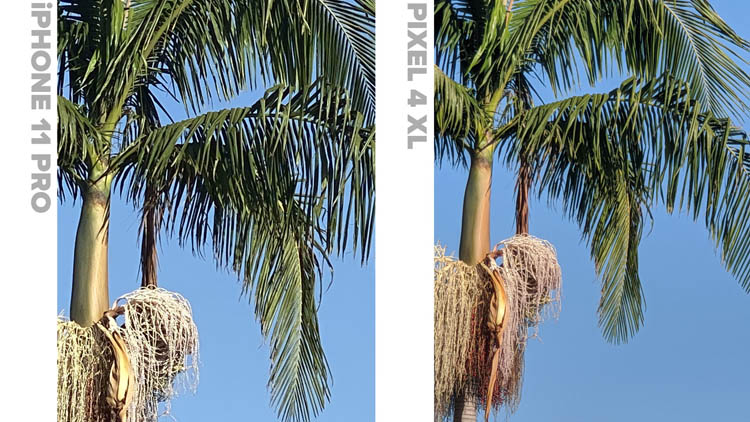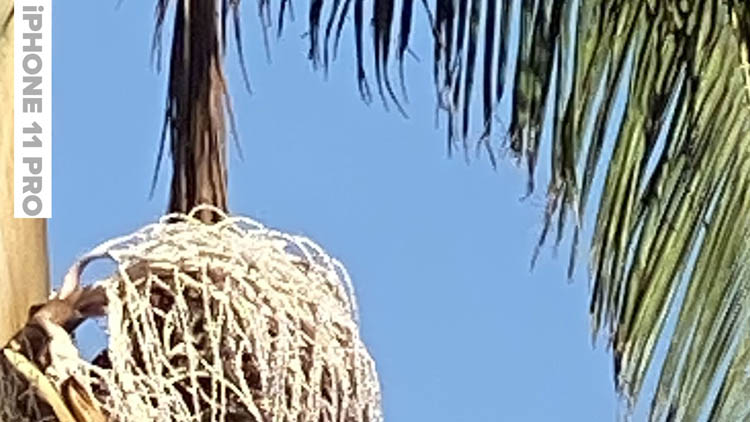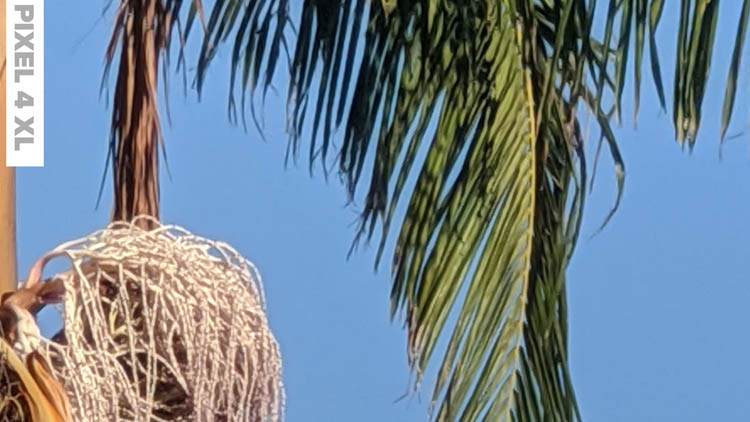 Clearly the Pixel 4 destroyed the iPhone 11 pro in the digital zoom. The zoom is so good, I'm going to start using it. I also noticed fully zoomed in the the image stabilization was much better on the pixel than the iPhone.
Unique features on each phone
Lets look at some of the unique features on the different devices.
Smart HDR
Both the iPhone 11 pro and the Google Pixel 4 use a smart HDR (shoots and blends multiple photos to expand the dynamic range and show detail in shadow and highlights) and both work really well.
The Pixel has a unique live HDR where you can see an accurate HDR preview on the high dynamic range screen. You have dual exposure sliders. The first is a regular brightness and the second is a live tone-mapping slider. The enables us to control the highlight exposure separate from the shadows and capture an image like we see on the right. Both were shot with Pixel 4 and no post processing has been applied.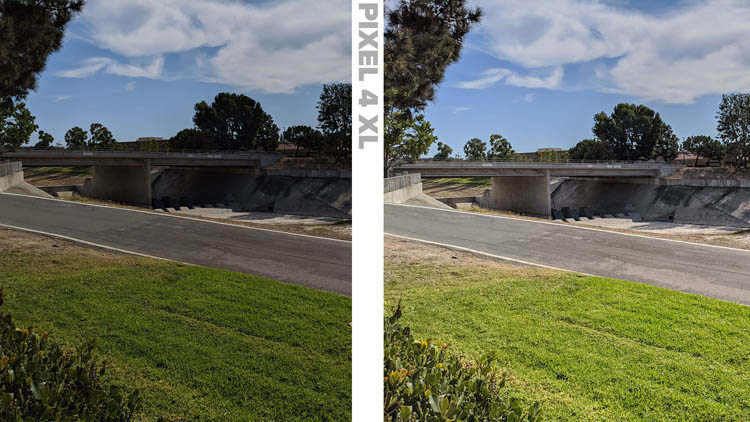 Wide angle lens
The big feature on the iPhone 11 pro is the triple lens array. A wide-angle lens (26mm f1.8), a telephoto (52mm f2) and an ultra wide angle lens (13mm f 2.4). The pixel has dual lenses for the first time, but only a wide and zoom, sadly, no ultra wide. The ultra wide is great for getting the entire picture and also fun for wild distorted close up shots.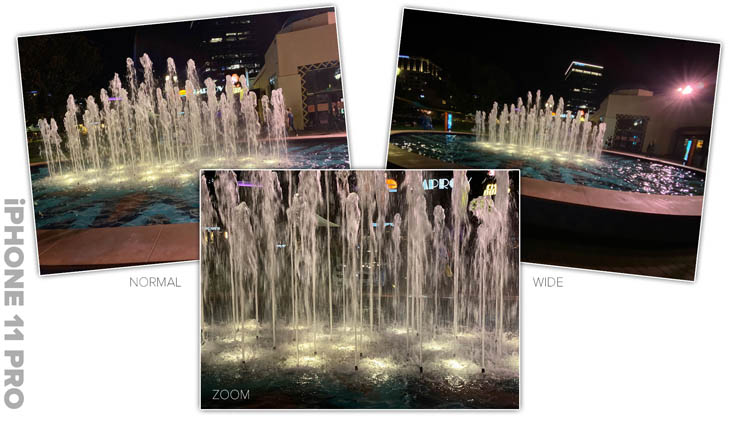 Astro Photography with Night sight
You might have seen pictures of the milky way shot with the Pixel 4. When it senses that the camera is completely stable, such as on a tripod or leaning against an object, the night sight turns into astro mode. This takes up to a 4 minute photo consisting of 15 exposures up to 16 seconds each. I wasn't able to properly test this yet because I was in the city with light pollution and light marine layer. In order to do any astro photography, you need to get out of the city to a nice dark location, free of light pollution.
But still, Ill share what I got from a parking lot. No, its not a magnificent milky way, but you can still see stars and this is more than I could see with my naked eye. Next time I take a trip away from it all, Ill get some shots and upload here.
Other things
Both phones feature wireless charging as well as improved battery life. Neither phone has a headphone jack. The iPhone 11 uses a lightning port while the pixel 4 has a USB type C port.
There is no fingerprint detector on the pixel 4. Both use face unlock, and the pixel uses radar to detect when you are moving towards the device, it preps the face unlock, so that its ready when you look at it and boasts a fast unlock speed. While Apple has made itself known as a company that takes security and privacy seriously, your face data stays on the phone and isn't transmitted. Google also makes this promise with this phone, stating that your face data never leaves the phone either.
Both feature a smart assistant, with Apple Siri and google assistant. Both can be activated with the respective phrase "hey Siri" or "Hey Google".  If you squeeze the sides of the pixel you can also call smart assistant, the same as long pressing the right button on the iPhone.
This is my review and test on the camera for both the Google Pixel 4 and the iPhone 11 Pro. I want to point out that both of these devices shoot amazing images. Even though you may see a big difference in some areas, that doesn't mean that both don't have great cameras, they do and you will be veery happy under normal shooting condition with either. If you need a wide shot, the iPhone is a good choice, if you need to zoom or do detailed close ups, the pixel has the edge. Personally, I think the pixel 4 is capable of producing better overall photos than the iPhone 11 Pro at this time.
Check out my video above for more in-depth commentary and more of the features on these phones. This was meant to be an in-depth  still photo review of the camera by a photographer, and I haven't compared the video or other features in this focused review.
Pricing USD
iPhone 11 Pro: Starting at $999 (64 GB) -$1349 (512GB) Pro Max $1099 (64 GB) -$1449 (512 GB)
Google Pixel 4: $799  (64 GB) – $899 (128GB)   Google Pixel 4 XL: $899 (64 GB) – $999 (128GB)
PIXEL 4 AND 4XL SPECS
Display:
Pixel 4: 5.7-inch, FHD+ resolution, 444ppi
Pixel 4 XL: 6.3-inch, QHD+, 537ppi
Both: 19:9 aspect ratio, "Smooth display" 90Hz refresh rate, "Ambient EQ" automatic color adjustment
HDR with UHDA certification
Dimensions and weight:
Pixel 4: 68.8 x 147.1 x 8.2 mm, 162 grams
Pixel 4 XL: 75.1 x 160.4 x 8.2 mm, 193 grams
Battery:
Pixel 4: 2,800mAh
Pixel 4 XL: 3,700mAh
Both: 18W fast charging, wireless charging
Cameras:
Main: 12.2-megapixel, 1.4 μm pixel width, dual pixel phase detection, OIS, ƒ/1.7 aperture, 77-degree field of view
Tele: 16-megapixel, 1.0 μm pixel width, phase detection, OIS, ƒ/2.4 aperture, 52-degree field of view
Video: 1080p @ 30, 60, or 120 fps; 720p @ 240 fps; 4K @ 30 fps; Front Camera: 1080p @ 30 fps
True Tone display
Wide color display (P3)
Haptic Touch
800 nits max brightness (typical); 1200 nits max brightness (HDR)
Fingerprint-resistant oleophobic coating
Other specs:
Memory: 6GB
Storage: 64GB or 128GB
Processor: Snapdragon 855
Pixel Neural Core coprocessor
Stereo speakers
dual SIM (nano + eSIM)
Active Edge
Motion Sense radar
Face unlock
Gorilla Glass 5 on front and back
IP68 dust and water protection
Available in "just black," "clearly white," and "oh so orange" (limited edition)
iPhone 11 pro specs
Dispay:
Super Retina XDR display
5.8‑inch/6.5-inch (max) (diagonal) all‑screen OLED Multi‑Touch display
HDR display
2436‑by‑1125-pixel resolution at 458 ppi (max)" 2688‑by‑1242-pixel resolution at 458 ppi
2,000,000:1 contrast ratio (typical)
True Tone display
Wide color display (P3)
Haptic Touch
800 nits max brightness (typical); 1200 nits max brightness (HDR)
Fingerprint-resistant oleophobic coating
Dimensions and weight:
iPhone 11 pro: 14.4 x 71.4 x 8/1 mm, 188 grams
iPhone 11 pro max: 158 x 77.8 x 8.1 mm, 226 grams
Camera Specs
Triple 12MP Ultra Wide, Wide, and Telephoto cameras
Ultra Wide: ƒ/2.4 aperture and 120° field of view
Wide: ƒ/1.8 aperture
Telephoto: ƒ/2.0 aperture
2x optical zoom in, 2x optical zoom out; digital zoom up to 10x
Portrait mode with advanced bokeh and Depth Control
Portrait Lighting with six effects (Natural, Studio, Contour, Stage, Stage Mono, High-Key Mono)
Dual optical image stabilization (Wide and Telephoto)
Five‑element lens (Ultra Wide); six-element lens (Wide and Telephoto)
Brighter True Tone flash with Slow Sync
Panorama (up to 63MP)
Sapphire crystal lens cover
100% Focus Pixels (Wide)
Night mode
Auto Adjustments
Next‑generation Smart HDR for photos
Wide color capture for photos and Live Photos
Advanced red‑eye correction
Photo geotagging
Auto image stabilization
Burst mode
Image formats captured: HEIF and JPEG
video
4K video recording at 24 fps, 30 fps, or 60 fps
1080p HD video recording at 30 fps or 60 fps
720p HD video recording at 30 fps
Extended dynamic range for video up to 60 fps
Optical image stabilization for video (Wide and Telephoto)
2x optical zoom in, 2x optical zoom out; digital zoom up to 6x
Audio zoom
Brighter True Tone flash
QuıckTake video with subject tracking
Slo‑mo video support for 1080p at 120 fps or 240 fps
Time‑lapse video with stabilization
Cinematic video stabilization (4K, 1080p, and 720p)
Continuous autofocus video
Take 8MP still photos while recording 4K video
Playback zoom
Video formats recorded: HEVC and H.264
Stereo recording
water resistant
Rated IP68 (maximum depth of 4 meters up to 30 minutes) under IEC standard 60529
The post Pixel 4 vs iPhone 11 Pro – Best camera? Side x side comparison, review in depth. appeared first on PhotoshopCAFE.