Return to a good laptop?
Hey CAFE crew! I just got the new 16″ MacBook pro. I know the question everyone is asking. Is it worth the money and is this right for me? I only goal here is to offer some advice for creatives that need high-end portable computing. (If you don't need portable, wait for the Mac Pro next month and see if it's any good). I know you are trusting me for honest advice and that's what you will get from me. I bought this myself and I'm not endorsed nor sponsored by Apple or any other computer brand. To prove a point, the 2016 MacBook pro was terrible and I said so. With that in mind, we are going to look at what's new in this laptop, we are going to test the performance working in Adobe apps (after all that's what we will be using it for) and the I'm offering some strategies to get the most for your money if you do decide to buy. There are no affiliate links, so there is nothing for me to gain if you choose to buy or not buy, do what you feel is best for your needs. If you are a Windows user, I'm not trying to get you to make the switch, use what makes sense for you and what fits into your workflow. (Disclaimer: I use both mac and windows, although I am a little more comfortable on the Mac, because that is what I have the most).
Make sure to watch the video because threes so much info in there that' I'm not repeating in this written review.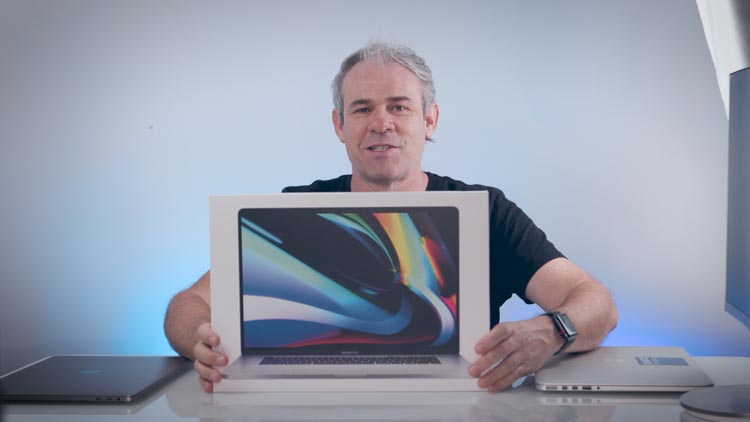 Whats new in this release, why should I care?
The big news is the 16″ screen, putting it somewhere between the 17″ beast from the past and the 15″ current model. Its a good compromise because they shrunk the bezel and were able to get 16″ into a slightly larger footprint, (its almost identical in size to the 2015 15: MacBook pro) but much smaller than the 17″. Screen: 16" LED  3072 x 1920 retina – 500 nits  P3 Wide Gamut. The screen looks really nice, its big, bright and accurate colors for professional work. Thats always been the case for Macbook pros. With all the complaints, no one has ever complained about the screens.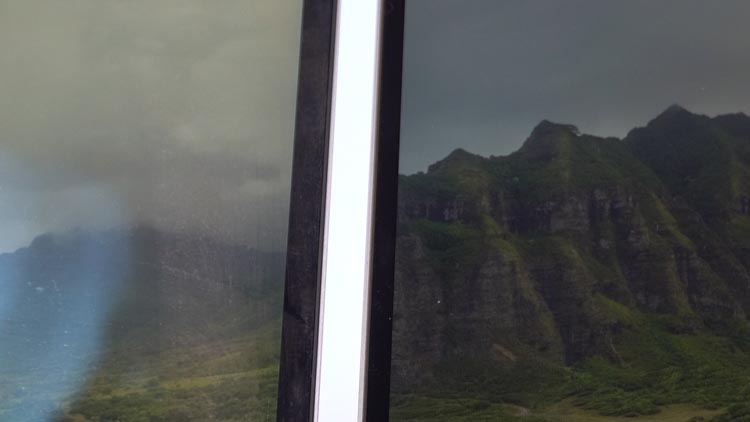 The other big news and what tempted me are, the new keyboard design, up to 64Gb Ram and 8Gb video memory. The internal storage goes top to 8Tb SSD and 8 core  i9 processors with burst of 5Ghz.
Lets talk about the chassis and outside design
The first thing I'm going to mention is the keyboard.
Return to the scissor keyboard (magic keyboard)
Apple have finally decided to abandon the butterfly keys and go back to a scissor mechanism. I don't know why they decided to call it the "magic" keyboard (I am I the only one that finds that name cringy?). because it's just a keyboard. But the nice thing is there is a more tactile feel and more travel with the keys. Gone are the noisy, clicking butterfly keys. On testing, I can say the the keyboard feels so much better, night and day better. It was a big deciding factor for me, because I hate the 2016-2018 keys that much, really struggling to type with the small amount of travel and limited space between the keys.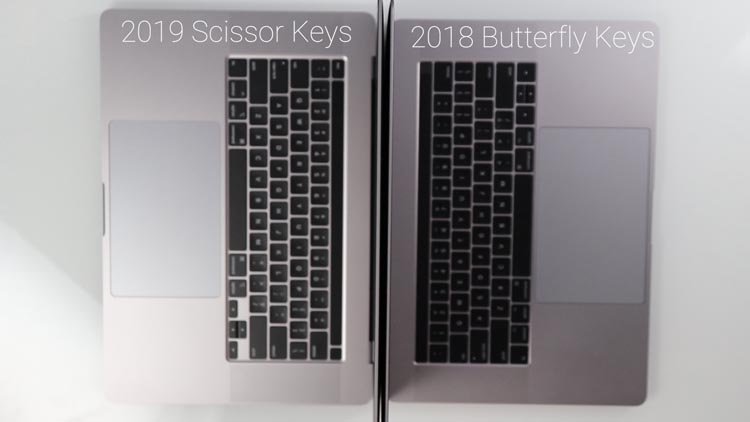 There is a 1mm travel in the keys, and they have a nice dampened feel while typing.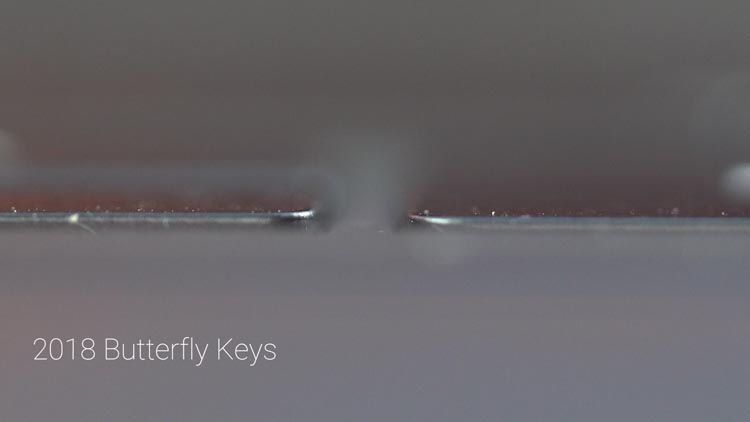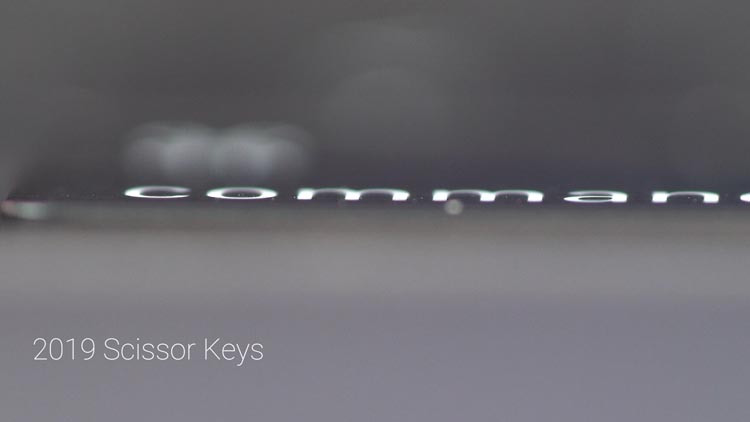 Gone are the unmatched arrow keys and we see the return of the inverted T arrow keys all the same size.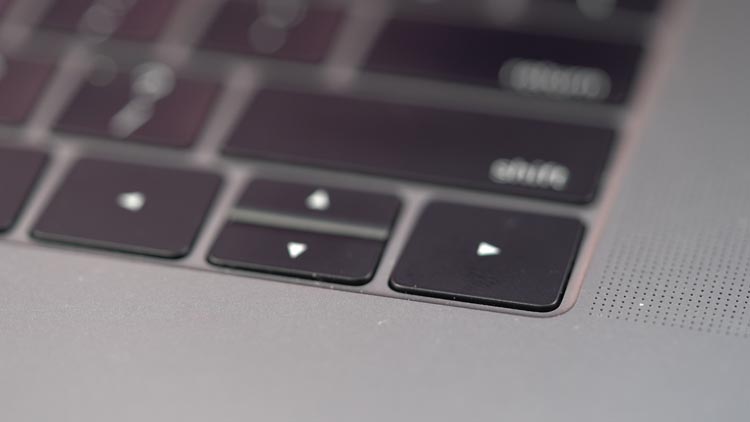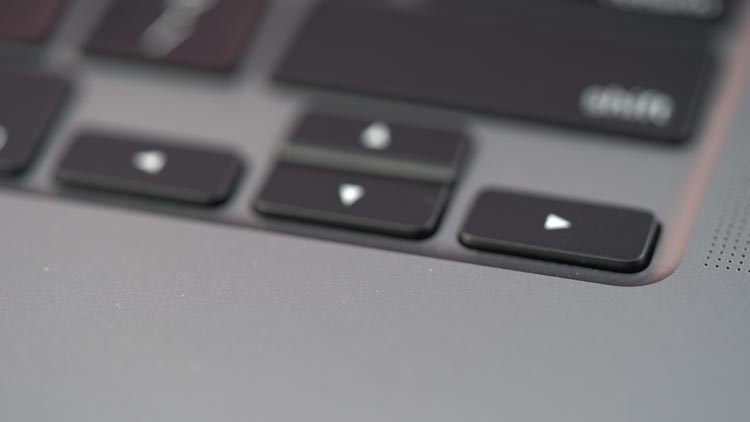 People will celebrate the return on a physical escape key. I don't know how many people I heard complain about the lack of an actual esc key. Little things like this tell me that Apple are finally listening to customers again.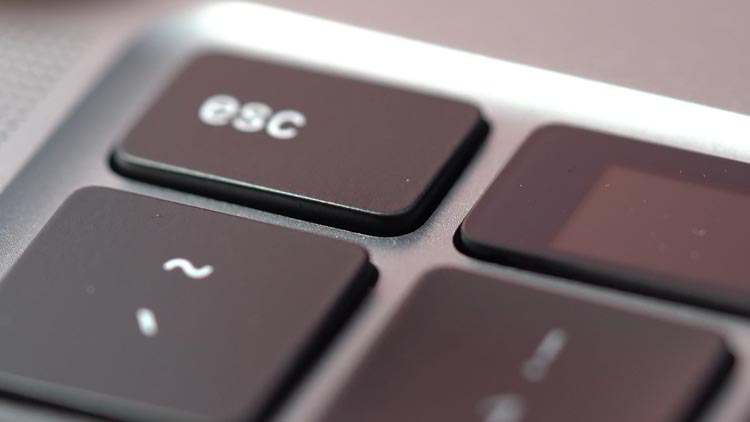 On the other side we see the fingerprint reader is also a physical on/off switch. (It was before too, but not as noticeable).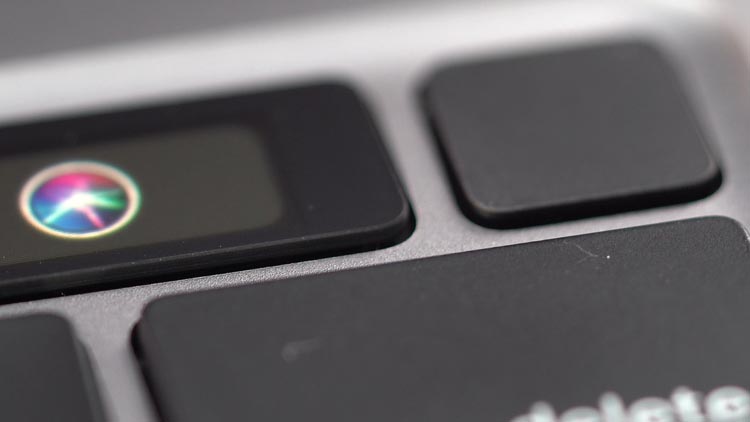 The chassis
The chassis is slightly larger than the 2018 MacBook pro and a little bit heavier, but barely noticeable, it weights 4.3lbs (2kg).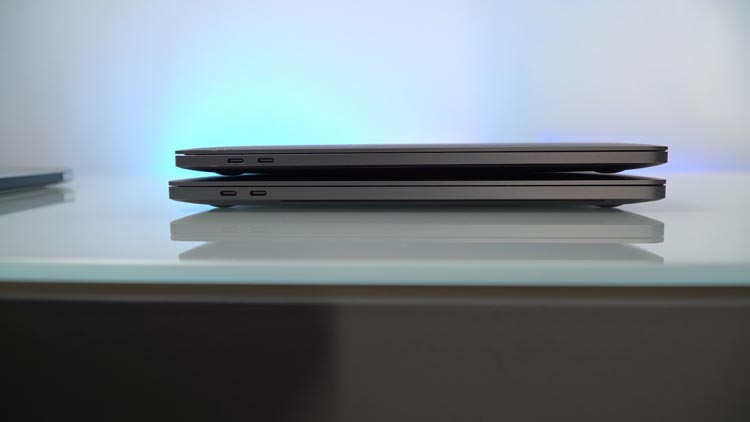 This larger chassis allows the room for keyboard travel as well as all new cooling. It has larger fans, heatsink and opening to allow better airflow. This allows the powerful processors to do their work without thermal throttling (slowing everything down to avoid overheating). It does work well and still gets pretty warm. I wouldn't put on on bare skin while rendering, but it won't catch on fire.
heat – 28% better airflow 35% larger heatsink – 12watts more sustained power – larger fans, larger vents
The other advantage of the slightly larger size is space for a bigger battery.
Battery: Capacity: 100Wh LiPo
Life: 11hr batt – I got 3.5 hours under constant load in my initial test. Normal working wouldn't be as heavy use unless you are rendering.
Charging time: 2 hrs (my finds) 96W USB‑C Power Adapter
In / Out Ports
So this means they have room for all the ports again right? Nope.
They still have the 4 Thunderbolt 3 ports and a headphone jack. I am ok with the Thunderbolt ports and I'll explain, BUT I really wish they had included an SD card reader, there is space for it and its something we need!
Thunderbolt 3 is very fast (40Gb/s – 2x as fast as thunderbolt 2) and very versatile. TB3 allows 3 things: data transfer, video transfer and Power transfer over the same ports and cables. This mean you can power things up, run external monitors (4x 4K displays or 2x 6K displays) and external peripherals like drives over the same ports and cables and they can daisy chain. TB3 is also capable with USB-C. Because the plugs are the same, all USB type C devices will work through the Thunderbolt ports. Be aware that Thunderbolt 3 devices won't work through USB-C ports because there isn't enough power to run the devices. USB-C and Thunderbolt 3 are not the same, Thunderbolt is better. In 2016, it was fair to complain about the lack of USB-A ports, but USB-C has been around for around 6 years now and is the standard on almost everything you buy. My Wacom tablet and external drives all work on USB-C. Maybe 1 port wouldn't hurt, but then again, would you want to give up one of these ports that are the current standard and will be for the foreseeable future? Hmm, I guess we need to carry that dongle for a little while more. Also notable is the lack of HDMI port, but then again Thunderbolt 3 has you covered al long as you have an adapter. My solution to all this though is the hyperdrive, I carry it around with me and it reads cards has TB3, USB-A and HDMI out on it.
Buy the way, the speakers and microphone are amazing! Check out the video above for the microphone test.
Lets look at the performance and see if it meets our hopes and expectations:
Specs on the machine I will be testing:
Screen: 16" LED  3072 x 1920 retina – 500 nits  P3 Wide Gamut: true tone (turn it off for professional color work).
Aspect ratio: 1.6:1 
Chipset: 2.4Ghz – 8 core i9 Turbo boost 5Ghz
Ram: 64Gb 2666MHz DDR4  (multitasking, Virtual machines – large images and Ram previews)
Video: AMD Radeon Pro 5000M 8Gb GDDR6
Storage: up to 8 Tb 3.2GB/s read – I have 1Tb (the only spec I didn't max out, doesn't affect performance)
6 speaker audio and new 3 mic array
Battery: Capacity: 100Wh LiPo 
Life: 11hr batt – 3,5 at full noise (in my initial test)
Charging time: 2 hrs (my finds) 96W USB‑C Power Adapter
Camera: 720p FaceTime HD camera, why not 1080 or 4k?
heat – cooling (no fridge) 28% better airflow 35% larger heatsink – 12watts more sustained power – larger fans, larger vents
Keyboard scissor – 1mm travel  (magic lol) – Touch Bar, Touch ID and escape key – inverted T arrow keys (space between keys!!)
weight 4.3 lbs / 2Kg 
I/O ports: 4x thunderbolt3/USB-C   2x speed of TB2
We will be comparing it to the top of the line 2018 15″ 2.9Ghz i9 6 coreMacBook pro with 32Gb ram and 4Gb 560X video, which is no slouch!
Let the games begin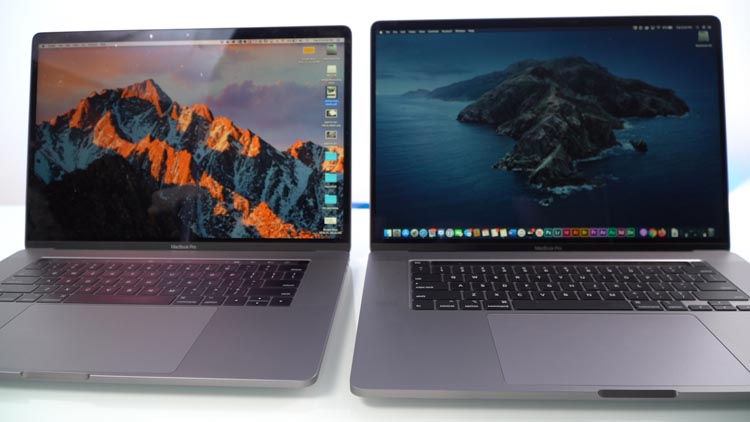 Photoshop test
Open a large image: 12274px x 2855 px image with 5 layers.
Open  pretty much instant
Resize 1200dpi (4x) to 49,096 x 11420
Noise reduction 100
2019: 1:11.80
2018: 1:21:82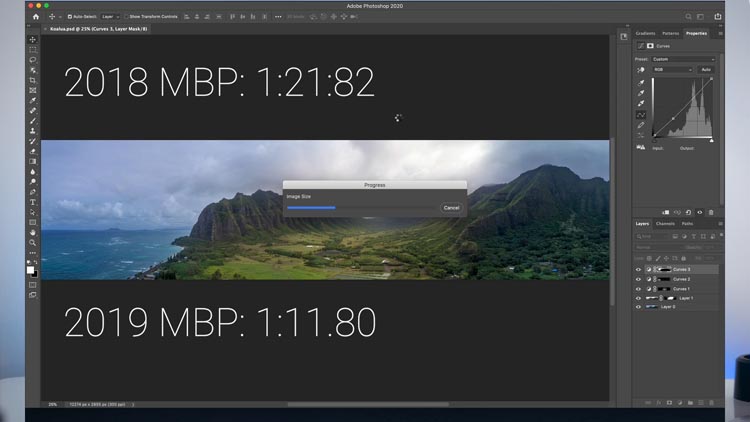 We then saved the resulting 4.32Gb file.
2019: 36.32 secs
2018: 34:36 secs
Lets test filtering.
I flattened the image and applied a Shape blur > tree > 10 (The most computational intensive filter at this size, the dimensions exceed radial blurs maximum size)
2019: 48.68
2018: 1:10.27
Lets try some warp stabilize in After effects.
Warp stabilizer surfing drone  7.5 seconds HD
2019: 1:14:88
2018: 1:59.35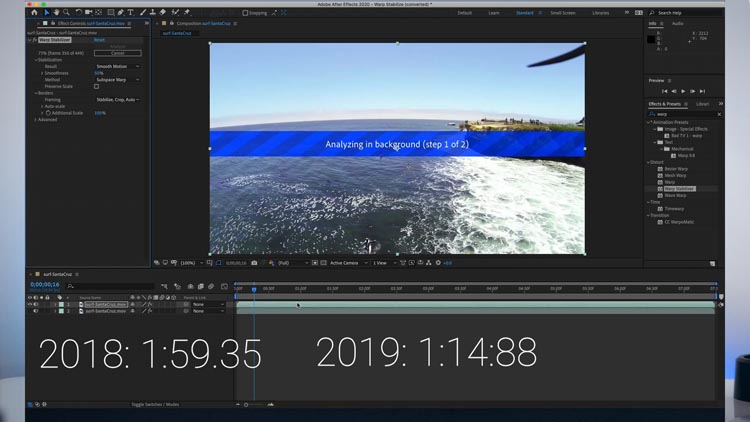 Premiere Pro
Almost 2 min video project with all kinds of effects and color grading, mixed footage and title as well as multiple audio tracks. Akin to a typical commercial/sizzle reel video project.
Encode hi quality 
2019: 1:00.27
2018: 1:12:34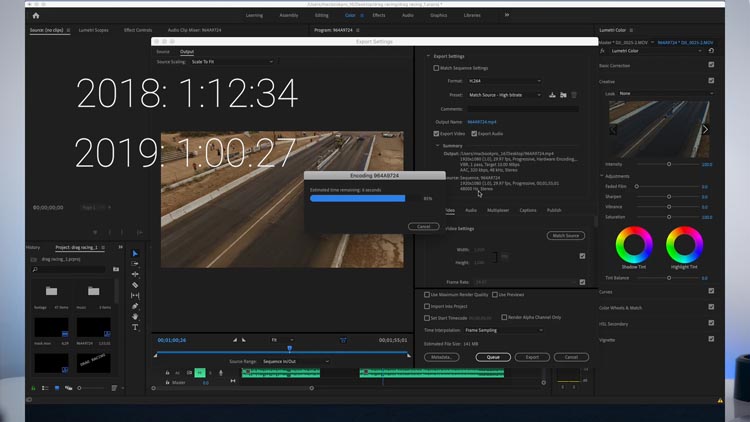 Lets do some 4k encoding down to HD.
Encode  1:40 DJI k4 clip. The video also plays back an scrubs with no choppiness at full resolution on both machines. DJI footage uses a complex compressions, so its a tough customer.
2019: 33 sec
2018: 1:13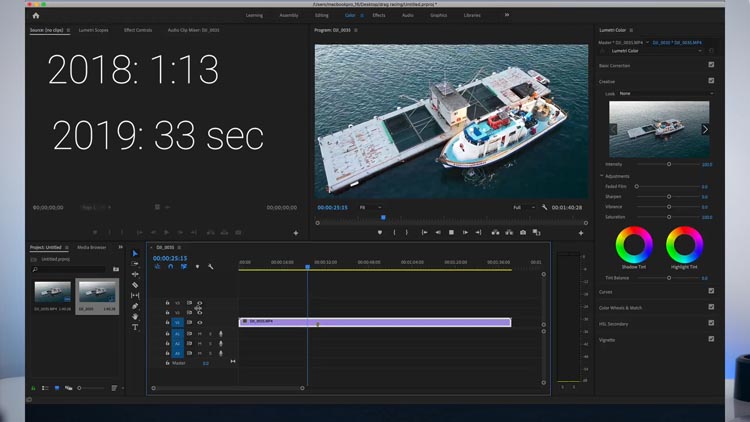 Speed change to 50% encode 3:20
2019: 1:03
2018: 2.25
Benchmark tests for those who want them
Cinebench
16″2019 MBP: 3151
15″ 2018 MBP: 2293
Novabench 
16″2019 MBP: 2348
15″ 2018 MBP: 1914
As you can see, this machine performs well, especially when it comes to tasks like video encoding.
Pricing – buying advice
Here is the tricky part What configuration do you get?
The downside with Apple is that all the components are soldered to the motherboard, so they aren't upgradeable, you have to decide what you want now and for the foreseeable future. Personally I'd prefer to get a little less and slowly upgrade, but that what the new Mac Pro will give us, hopefully. It comes down to 2 things, what do you need/want and what is your budget.
The machine I tested was fully maxed out with everything but the SSD. You are looking at $3,899 before tax and AppleCare. This gives the best performance available today on any Apple laptop. You can updgade the SSD all the way to 8Tb, I chose not to do that because that costs an extra $2000 taking it to about $6k USD. I feel that external drives are better ways to spend your money. If you absolutely HAVE to have 8 TB onboard, go for it, but for most people 1 Tb is enough.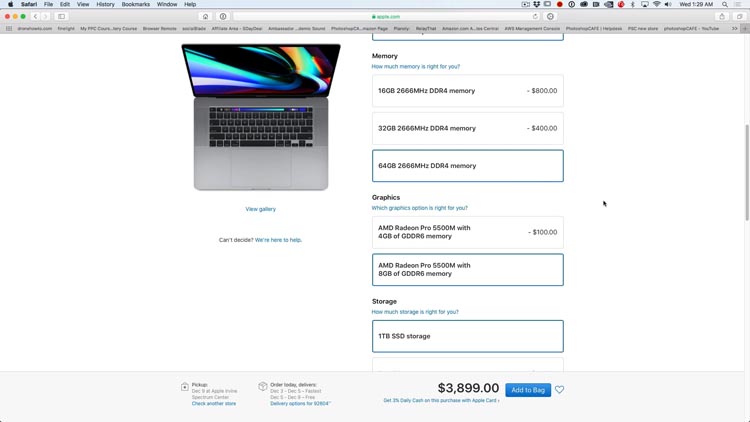 If we look at the base prices, they are :
2400 6 core i7 – 512 SSD 5300M = $2,399
2800 8 core i9 – iTB SSD 5500M = $2,799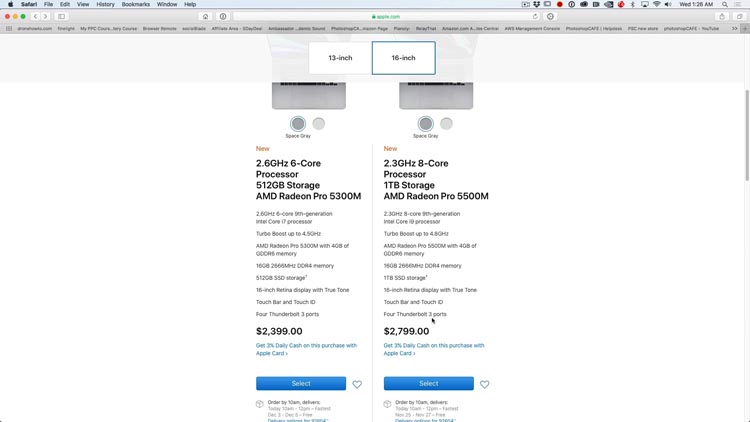 If you can, choose the 8 core for $400 more, here is why.
You get 1TB SSD vs 512 ($200 upgrade)
The 500M video card ($100 value)
and the 8 Core i9 processor ($300 to upgrade from the entry level)
So thats $600 with of upgrades for extra $400.
A must upgrade, if you only upgrade 1 thing, spend the $100 for 8Gb video card ($200 for the base model)
if budget allows up the ram to 32 ($400) 32Gb will be plenty for most people for the foreseeable future.
Ram doesn't make a machine run faster, but a lack of ram slows it down. Its used for running multiple things at once, multiple apps, virtual machines and ram previews in video.
Warranty 1 year hardware – 90 days tech
Apple Care $379 3 year accidental damage, + tech support. Although it's expensive, I usually fork over the money for Apple care. You have a lot invested in this machine, may as well protect it. But this is a total personal call for you.
Anyway, thats my review and buying advice for the Apple 16″ MacBook pro. I can finally say for the first time since 2015, that I absolutely recommend the MacBook Pro again. You should be very happy with it, as I am with mine so far. If anything changes, Illadd an update here.
Thanks for checking outlay review 9and watch the video above if you haven't).
Great to see you're at the CAFE
Colin
The post 16-inch Macbook Pro review. Is it good for creatives? appeared first on PhotoshopCAFE.