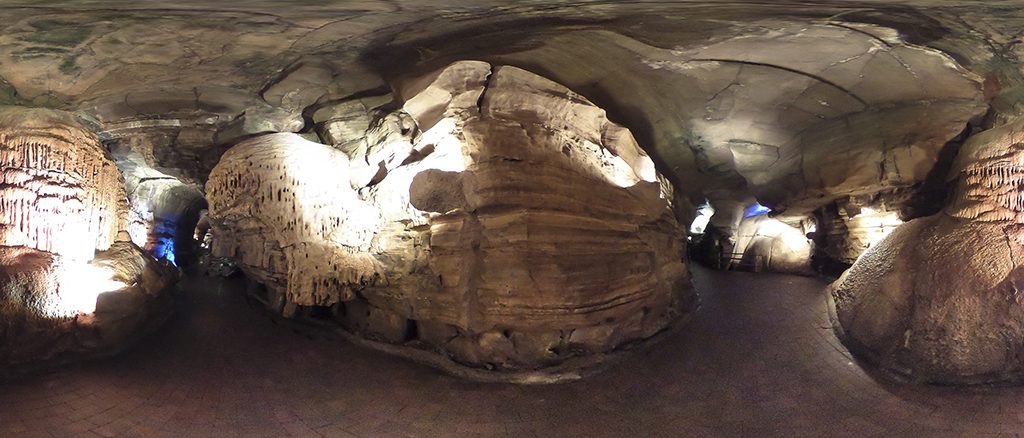 On August 16th, six adventurous souls (Ellen Christiansen, Marianne Rahn-Erickson, Jerry Boehm, John Berninger, Phil Olivo, and Brian Sherman) decided they had enough of the sunny, 87 degree weather and wanted to escape to a dark, humid world permanently at 52 degrees for the sole purpose of giving their cameras a workout. The Howe Caverns Photo Tour was an exceptionally enjoyable experience for the group. A perfect opportunity for the intrepid Society members to reacquaint themselves with full manual controls on their cameras, create with light and texture, and experiment with HDR post processing. And oh yeah, to capture the feeling of the underground world and flowing streams located 153 feet below the hills surrounding the Schoharie Valley.
After an abbreviated guided tour, our indomitable crew spent the next two hours roaming freely through the cavern taking photos whever they liked. For those on a first time visit to the cavern, they also opted to take a quick boat ride.
John commented that he enjoyed taking photographs in the Caverns because it was so different from anything else he has done. "The darkness, artificial light, and the unusual shapes and textures of the Caverns made for a challenging and fun evening." His toned images capture the eerie feel of the rock formations and the clarity of the reflections of the cave surroundings in the water below is incredible. Jerry captured the essence of the wildly varying artificial light illuminating the pathway through the cavern. His new nickname is "the Master of White Balance". Phil used black and white imagery and a border to play with the dark shadows and capture the unique textures of the rock formations in his otherwordly abstract that is a brilliant study in the directionality of light on a subject. Brian merged several images using HDR to dramatically document the path through a larger section of the cavern, and while experimenting with using a 360 degree VR camera, shared with us the full panoramic of that "place" underground.
It was an exceptional opportunity for experiencing camaraderie with fellow photographers. And yes, we did remind each other, as we descended into the depths via the elevator, to turn off stabilization while shooting on a tripod!