For many of us, January is a time to look forward, make resolutions, set goals, and make plans for the new year. I think it is also a fun time to look back at the year that passed and gain some insights into our photography or maybe just reminisce about key moments you captured. Lightroom Classic offers us a few tools to help us see interesting data points about our collective photo libraries. Head over to the Library module to see what I mean.
With the Catalog Panel expanded we can select the All Photographs collection, which puts every photo (and video) we've ever imported at our fingertips. Press G for Grid view if not there already.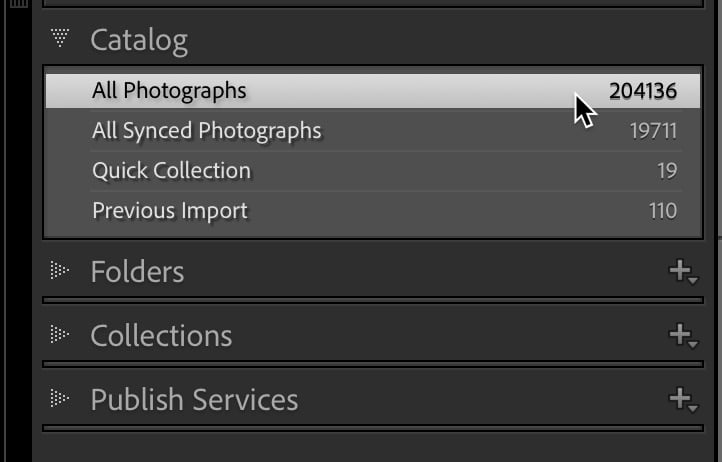 Above the thumbnails in Grid view is the Library Filter bar. If you don't see it, make sure you are in Grid view, and if you still don't see it press the \ key which shows and hides the Library Filter bar. Next, click the drop-down menu on the far-right of the Filter bar (it may say Filters Off) and choose Default Columns.

This opens the Metadata section of the Filter bar and displays columns for Date, Camera, Lens, and Label (color labels). If you have photos in your catalog from other years, as I do, scroll down on the Date column until you can see 2022 and click on that. Now my All Photographs view has been filtered down to just the photos I captured in 2022, and I can already see a few things, such as that I took 8,744 photos and videos, I used 20 different cameras, and 42 different lenses. Looking over each month of the year I see that June was my most photographically active and that April was my least active. I shot the most with the R5, followed closely by the R3, and then the R7. My iPhone was way down the list, which surprised me considering it is always with me. My most used lens was the RF 100-500. Now, all of that won't be meaningful to you, but hopefully as you look at your own work, you'll find your own interesting patterns and statistics.
I do not spend a lot of time with color labels these days, so that last column is not that interesting to me. However, it is super easy to change the data type displayed in any column. Just move your cursor over a column's header and you'll see it is a drop-down menu you can use to select from a wide range of other data points.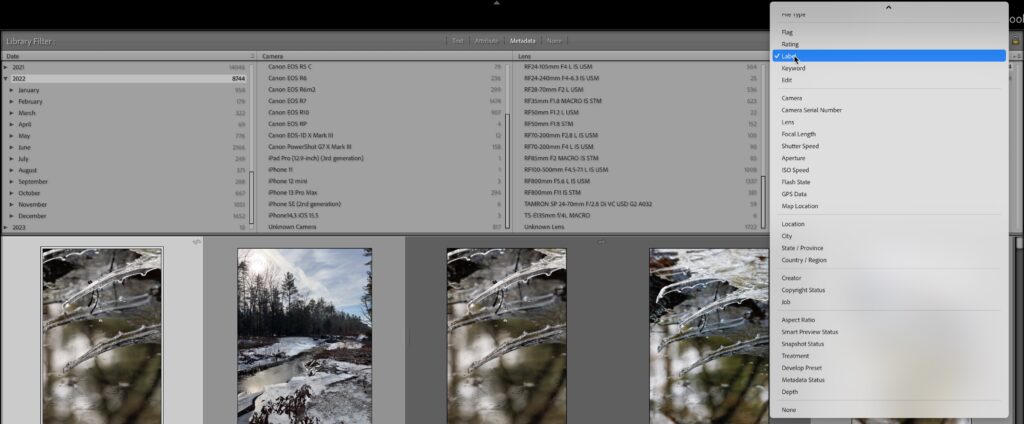 Maybe it would be interesting to see what your most used aperture or focal length was as it could help you factor in a future lens purchase, or you started being less afraid of high ISO and you're curious how high you went? To see the photos represented by any of those groupings just click on one of the labels. So, to see what images I shot at 102,400 ISO I clicked on that label to filter them into view.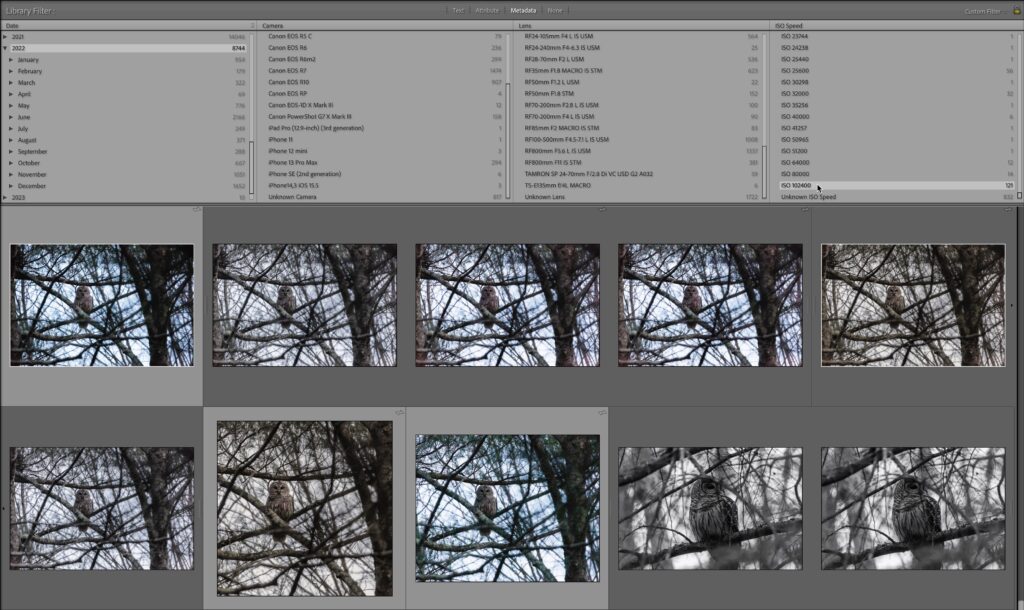 If you want to really geek out about Library Filters, check out this other tutorial I wrote on how to save custom Library Filter templates. I hope you have a wonderful 2023 and reach all your photographic goals!
The post Use Library Filters to Look Back at Last Year appeared first on Lightroom Killer Tips.