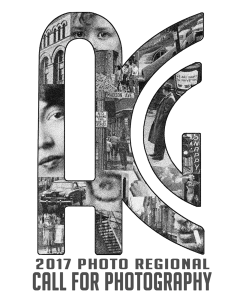 Albany Center Gallery (ACG) is requesting entries for the 39th Annual Photography Regional, to be held at the gallery from March 17 through April 21, 2017. ACG has been a co-sponsor of the annual juried exhibition since its inception in 1979. The exhibit, formed in response to the lack of a single survey exhibit strictly focused on photography, has become a staple of the local exhibition season, highlighting new and established talents based within 150 miles of Albany.
The 39th Annual Photography Regional will feature a salon-style open viewing from March 3 to March 10, in which all entries will be hung floor-to-ceiling upon delivery to the gallery. After March 10, the juried selection will be rehung as a formal exhibition. The 39th Annual Photography Regional will open on March 17; prizes will be awarded at the opening reception, which will take place on March 17 from 5pm to 9pm.
Jurors: This year's show will be judged by two local stalwarts, Tara Fracalossi and Danny Goodwin.
Guidelines: The submission drop-off dates are Friday, February 24, 12pm – 5pm, and Saturday, February 25, 12pm – 3pm. Work MUST be wired and ready to hang; if not, the work will not be accepted.
Entrants may submit up to three images, with the following restriction: INCLUDING MATS AND FRAMES, THE COMBINED LONGEST DIMENSION (h or w) OF THE SUBMISSIONS CANNOT EXCEED 80" TOTAL. For example, if a piece has a long dimension of 80", it must be the only piece submitted. Two pieces whose combined long dimension totals 80" (such as two 40" pieces) would be allowed, as would three pieces up to 26.5" each in the longest dimension (or smaller).
No e-mail submissions will be accepted. Artists may drop off up to three ready-to-hang photographs on the dates listed above.
You must fill out an online form for each piece by visiting our website.
Entry Fee: Submission fee is $35 for non-members, $25 for ACG Members.
IMPORTANT: All non-selected entries MUST be picked up NO LATER THAN 5 pm on Saturday, March 11.
The gallery will not be responsible for entries left after that date.
An opening reception for the jurors select show will be held March 17, 2017 from 5pm to 9pm.