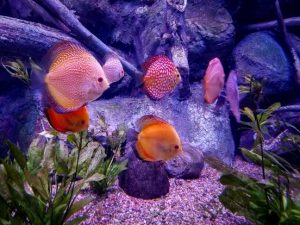 The Photo Society is organizing a field trip to the aquarium located within the ViaPort Mall in Schenectady. In addition to the large tanks that represent fish and crustaceans from around the world and also the state of New York, there are large open pools for stingrays and Coi where you are encouraged to touch and if you wish, feed the fish (not recommended is having the Coi nibble on your lens – yes, it's possible). There is a circular tank that you can get inside and the fish swim around you, as well as two tanks that you can walk through where the fish swim around and over the top of you (each is approximately twenty feet long). At the end of the pathway you follow is a tank with many Poison Dart Frogs within (suggest a macro lens or extension tubes – man those things are tiny!). The Docents are very friendly and very willing to answer questions. All the staff I have met really enjoy what they do!
On average, plan for two hours or more to do photography. There are restrooms midway through the aquarium and also water fountains (food is not permitted). You move at your own pace and in any direction you wish once inside. It will take some practice to get used to following the fish around the tanks or waiting for them to enter your frame. You may wish to use a rubber lens hood when shooting so as to reduce any glare or unwanted light refraction from entering the lens (you do not want to press a metal lens against the glass). You might also want to bring a lens wipe (only microfiber cloth with no chemical cleaning agent is permitted) to clean the glass if it is smudged from finger prints however the staff are meticulous and do keep the glass very clean! At the end of the pathway through the aquarium is an aquarium shop (stuffed animals, books, clothing, etc. and it is equally as impressive as the aquarium itself with much to choose from if you want something for your children or grandchildren). Lots of amusing photo ops exist there as well. This isn't Boston or NYC but is very similar without the huge center tank or live seals, dolphins and penguins.
A full day pass for an adult is $17.00 (group pricing is $15 and requires 15 people minimum). Several links appear below which provide some tips and techniques for photographing fish in public aquariums. Plan on shooting at an ISO ranging between 640 and 6400 or even higher. White balance is very tricky and will likely require adjustment in post processing (tanks have different environments and lighting depending on the geographical theme). Flash is not permitted except in the special photo areas for candid shots of people. The staff have indicated that tripods and monopods are permitted (they just ask that you be courteous to other visitors).
The Society members will meet inside the mall at the entrance to the aquarium at 2:30 pm. If you would like to have lunch together, the group will meet at the food court at 1:30 pm and have lunch there or we can opt to eat at Ninety-nines, past the food court area. The start time puts us after the busiest time at the aquarium. Please let the Field Trip Coordinator know if you plan to attend, and if you are interested in joining the group for lunch. Email any questions to: [email protected] .
Attached to this announcement is a map of this very impressive facility.